May 31, 2017
Posted by:

Ian Gray

Category:

News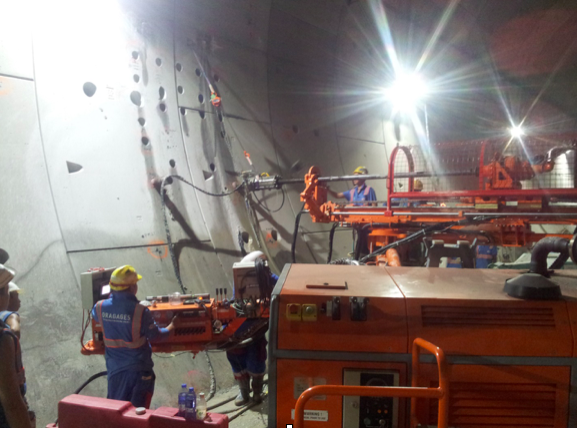 The exact type of managed pressure drilling equipment is dependent on the project—this is where Sigra's bespoke design and manufacture comes into play.
The managed pressure drilling technique is used to enable drilling to be undertaken from below the water table.
It is used to control the ingress of groundwater and fines into a borehole and out of the hole collar underground, with associated soil piping problems.
It can also prevent drilling fluids being forced into the ground causing fluid loss, shear strength reduction or liquefaction.
To prevent this occurring, the drilling fluid pressure must be controlled  to balance the groundwater pressure and to also enable efficient clearing of drilling cuttings.
About Our System
Sigra's managed pressure drilling system can be used with rotary or downhole motor drilling utilising mud to clear the cuttings.
The system enables the installation of spiles or tube a manchettes under mud pressure.
Managed Pressure Drilling — Key Ancillary Hardware
Tunnel wall penetration casing with shut-off valve (which seals the casing to the wall)
Static annular seal to seal casing to drill rod (blowout preventer or BOP)
Rotating or static seal between the drill rod and the casing or BOP
Choke to control the drilling of mud and entrained cuttings at a carefully controlled back pressure within the borehole. This will handle large size cuttings.
These items require bespoke design and manufacture to ensure they are fit for their intended use—we design and manufacture managed pressure drilling equipment to suit the application.
These can be built to operate at mud pressures from 5 kPa to 7 MPa.
Design Variants
In addition to its surface well control equipment, we have manufactured equipment for use in drilling from underground mine roadways, for the prevention of uncontrolled inflow of gas and water. The latter was actually Sigra's first managed pressure drilling system built in 1994.
Recently, we built a variant for use between shallow-bored road tunnels in soft, granular soils.
This has been successfully used to prevent hole collapse, as well as preventing the loss of drilling fluid and liquefaction of the ground above. (Such events could have has serious consequences for the drillers and for structures above the tunnels.)
Case Study: Liang Tang Tunnel Project
Background
The Liang Tang tunnel project comprises dual two-lane road tunnels, linking the Sha Tau Kok Road and Fanling Highway interchanges in Hong Kong, contracted primarily via a Dragages Hong Kong-Bouygues joint venture.
This tunnel project requires 4.8 kilometres of tunnelling through both soft soil and hard rock formations—the northern 500 metres consisting of soft soil tunnelling using an earth pressure balanced TBM, with cross tunnels also being excavated between the two main tunnels.
Sigra provided specialist equipment to enable drilling and installation of the ground support and consolidation grouting, thus enabling the cross tunnel excavation through the soft soils to proceed.  This enabled the installation of temporary ground support through pre-drilled holes.
Due to the nature of the formation, hydrostatic head acting on the tunnel, and the risk of liquefaction, all drilling and installation work had to be done under controlled conditions using borehole pressurisation equipment.
Sigra Design Brief
Our brief was to design well control equipment which would enable drilling and installation processes to be carried out safely, by:
Maintaining a pressure seal at the tunnel wall penetration
Providing a balanced pressure while drilling and grouting so as to

Prevent inflow of water and soil into the tunnel
Prevent excessive pressure being developed within the hole so as to avoid problems with ground liquefaction
We needed to design equipment for the restricted access within the tunnel for the drilling rig, as the main passageway could not be blocked from other construction traffic.
Three sealing modes were designed: a lip seal during drilling; an annular blowout preventer (BOP) to shut in on non rotating drill pipe; and a gate valve for extended shut in periods when the drill pipe was not in the hole.
Additional specifications include the ability to take tube-a-manchette cementing pipes, and maintain a pressure to balance the ground water pressure.
The design is based on Sigra's well control system used in gas wells. The  key point of difference being the shortened length of the unit. It also had a lower pressure rating choke used to control back pressure in the comparatively shallow environment, while allowing passage of particles up to 40mm diameter.
The system we designed has been an important component in enabling the contractor to complete their cross tunnels.
Sigra will be attending the 16th Australasian Tunnelling Conference in Sydney, 30 October – 1 November. To find out more about Sigra's attendance at the conference, subscribe to updates via the form below.