Sigra provides the equipment to obtain data from nearly any application in any part of the world. The equipment may be purchased or hired. Sigra frequently supplies this equipment as part of a data acquisition service.
Sigra field loggers may be used to collect and transmit data. The applications they may be used for include:
Groundwater monitoring
Landslide or excavation monitoring
Piezometers
Tiltmeters
Extensometers
Ground anchor monitoring
Surface water monitoring
Reservoir levels
River or creek levels
Rainfall monitoring
While generally used for field use they may be equally well used in the laboratory situation.
The loggers will directly read many kinds of transducer including those with voltage and frequency outputs, vibrating wire transducers or resistance devices.
Loggers can communicate via radio. Radio communication is supported via plug in modules. The country of operation and or range required dictate which modules are employed. Options are available from 920 MHz or 2.4 GHz ISM bands.
Loggers can also be grouped together by RS485 or radio communication with one of the loggers acting as the master. This centralized control enables users to remotely talk to a group of loggers without establishing multiple serial connections.
The Logger software is used to push settings to the Logger and download data from it. Users can communicate with the Logger locally by mini-USB wire, or remotely by cellular and satellite modem.
The data transmitted may be acquired by the client's own data acquisition system, or generally and more conveniently, via Sigra who will collect and place it on the web for secure access by the client.
Sigra frequently supply loggers along with a monitoring service.
Examples of Use
The monitoring of a large landslide
Sigra has installed a monitoring  system on an area subject to landslide comprising a mass of igneous rock overlying sedimentary material. The contact has very low friction and moves continuously and at an increased rate when it rains and groundwater levels rise.
The monitoring system comprises multiple loggers in a network that collects rainfall, piezometric and pump operation information. The system controls pumps in wells designed to dewater the slope and help control the landslide.
A 3G modem connected to one of the loggers in the network is used to remotely collect data from the networked loggers. This automated process is repeated several times each day. Sigra makes the data available to the client via a secure web server. To reduce the amount of data the client has to review, the loggers are configured to record only when data changes by more than a set amount. A heartbeat record at a longer interval is still recorded to reassure system integrity.
Reservoir monitoring
The Sigra loggers are frequently used to monitor pressures in coal seam gas reservoirs. In this case they generally monitor multiple transducers, cemented into a well.  At surface is a box containing loggers that are coupled via RS485 and communicate to the outside world via a modem.  The units are powered by a solar cell which stores energy in batteries.
In another variant of this Sigra can configure the system to control well pumps as well as monitor well pressures and flows.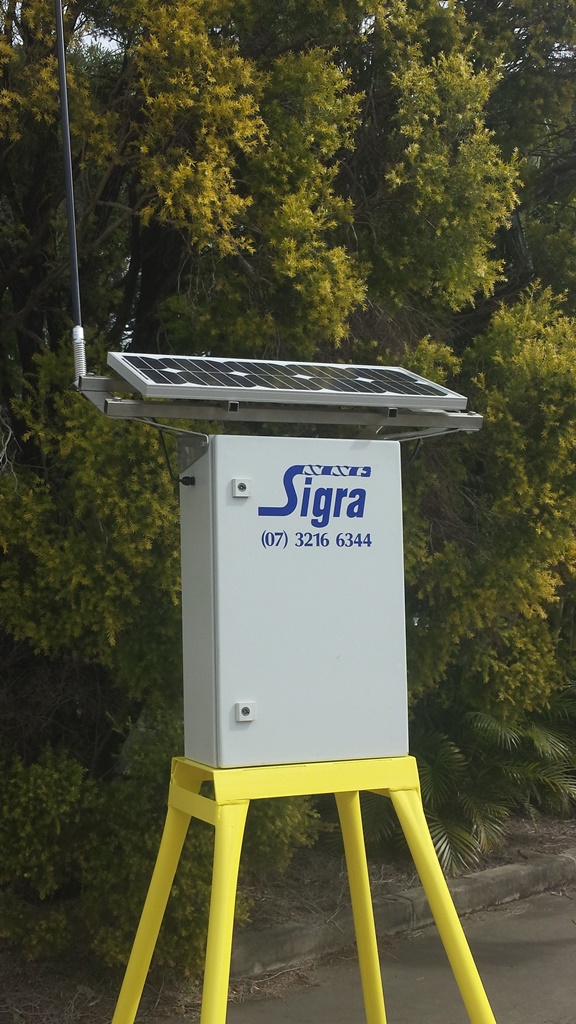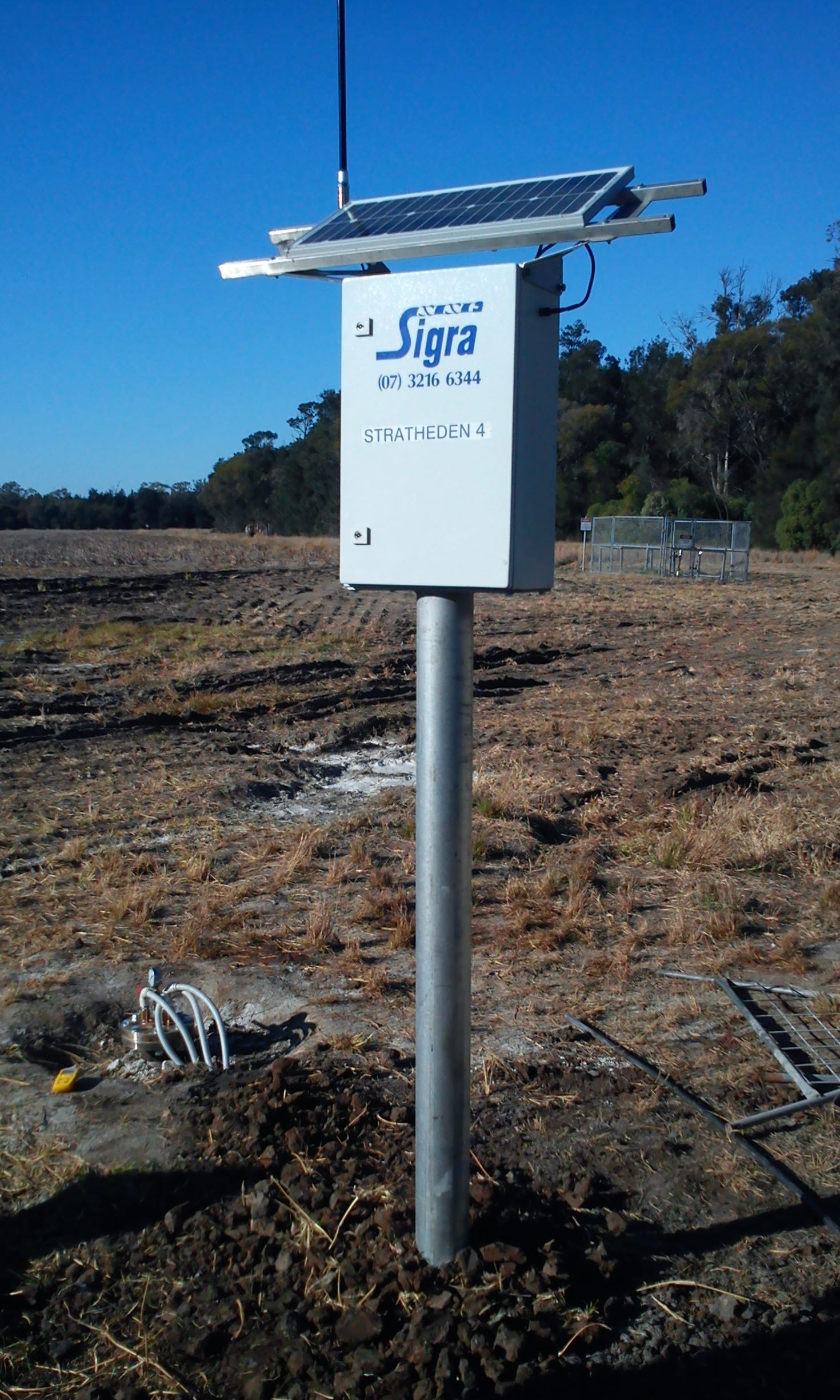 Specifications
Communication with the Logger by:
PC: Mini-USB, RS232, Radio
Data Modem: Cellular Modem, Satellite Modem
Between Loggers: RS485, Radio
Sensors
Vibrating Wire Range: 0.5 ~ 5 kHz
Resolution: 0.01 Hz
Resistance Range: 0 ~ 330 kΩ
Resolution: 1 Ω
Voltage Range: 0 ~ +5V DC
Resolution: 77 μV (16 bit)
Frequency Range: 0.5 ~ 5 kHz
Resolution: 0.01 Hz
Counter Cumulative counts or reset on read
Rate: 0-100 Hz
Channels
Vibrating Wire: Only on Channel 1, 3, 5, 7
Counter: Only on Channel 2, 4, 6, 8
Voltage, Frequency, Resistance: All channels
Max Data Rate
4 Seconds
Fast Read Mode (Approx. 4 Hz)
Process Control
A 5V output port activates during each measurement
Radio
Frequency: 2.4 GHz ISM Band or 920 MHz
Transmit Power: 63 mW and 250 mW respectively
Reliable range: 2.5 km in line of sight. Less in difficult conditions and topography.
Power
8 ~ 16 V(DC)

The loggers are frequently used with a rechargeable battery, solar panel and low voltage disconnect. These are supplied with the housing.
Environmental Rating
DIN Mounting: IP20
Weatherproof Enclosure: IP65
Memory
32GB, Maximum 18250 days record (~50 years)
Software
Compatible with Windows XP, Vista, 7, 8, 10 11