Gas drainage is a vital part of most operating underground coal mines, and Sigra provides a complete service to assess the likely gas make and to design a practical drainage system to bring gas down to a safe level, from both ventilation and outburst perspectives.
The sources of gas in development come from both flow from ribsides and face, as well as from the desorption of mined coal. Sometimes the roof and floor may also contribute gas.
Sigra determines the gas make from cut coal by examining the core desorption behaviour, or if the opportunity presents itself, by collecting cuttings off the tail of the miner and allowing them to desorb. The result of this is a prediction of the coal emission with time of: cut coal at the face; from the shuttle car; and along the conveyor.
Through our reservoir characterisation process, Sigra will test the coal seam for permeability (initial, directional and changing with stress changes) and gas content.
From this information it builds a reservoir model of the coal seam. This may then be used for the purpose of gas drainage design. This is likely to involve the simulation of drainage borehole layouts and gas make into mine roadways.  
Figure 1 shows the results of simulation of gas percentage at the face and at the end of the returns in a 6 km long gate road development with some pre-drainage of 1 year and 2 years.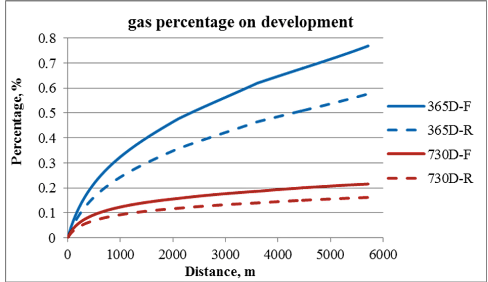 When extraction of a seam takes place with longwall mining or pillar removal, the situation becomes more complex.
Goaf gas needs to be drained to prevent it entering the face area. This may be achieved by surface boreholes, cross measure drainage from underground, drainage adits, or large diameter boreholes along the block. Sigra has worked with all of these options.
In high-production longwall faces, the face gas make may also be significant. Sigra can simulate the gas production from the single or cumulative shears based on core desorption information.  
Figure 2 shows a simulated gas make from cut coal on a longwall passing into the tailgate, due to a single shear starting at the tailgate and progressing toward the maingate.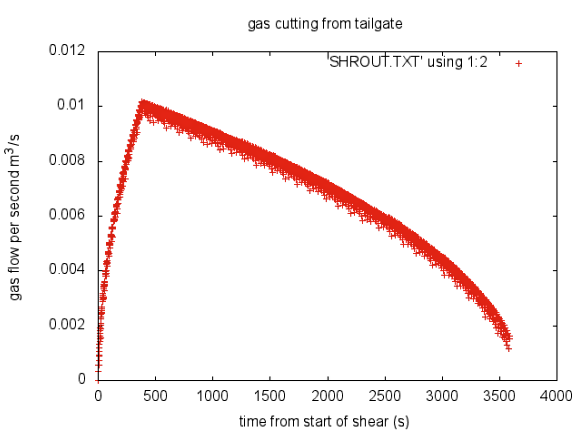 Sigra provides a drainage design service which, when combined with our ventilation experience and modelling capacity, means that we can arrive at practical designs.
This is assisted by our knowledge of drilling  and gas drainage hardware design. This means that we can design the entire drainage system and provide a solution that will work. We have also extended gas drainage design to include the economics of gas utilisation.