September 4, 2018
Posted by:

Ian Gray

Category:

Director Sigra Dr. Ian Gray recently took part in the international conference Eurock 2018 in St. Petersburg (Russia), organized by the International Society for the Mechanics of Rocks (ISRM). This is the main European conference on rock mechanics in the current year. Subjects of the conference included the questions of geomechanics and geodynamics of the rock massif.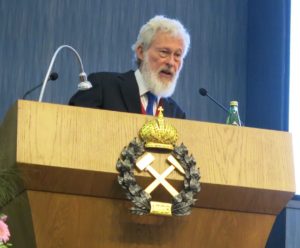 A keynote address by Dr. Gray was called "Anisotropic and non-linear properties of rocks and liquids under pressure." The results of the experimental work carried out by Sigra to determine the true rock properties were presented. This work is of considerable interest to all those involved in the practical design of engineering work in the rock massif, as well as for those who conduct similar studies.
Dr. Ian Gray also conducted a one-day course on "Mechanics of rocks in construction, mining and oil production". The course materials are available for downloading in Russian and English via the link —-
Sigra thanks the organizers of the conference for the opportunity to receive another recognition at such a high international forum and expresses gratitude to the translators Nadezhda Nikitina and Yuliya Shelukhina. We are also grateful to those who showed interest and talked with Dr. Gray, shared his professional opinion, his knowledge and expressed his readiness for cooperation.